GUIDE & TIMELINE
Few remodeling projects can change the look and feel of a room like new flooring. We can't wait to install the perfect floor for you.

Select a step on the timeline to learn more.
VERY SATISFIED

CUSTOMERS

I had vinyl plank flooring installed in my basement. The crew showed up on time and finished early, and explained each step of the process! I couldn't be happier with the results!

Lakota was very satisfied!

The 2 man crew were prompt, on time, respectful of property, available if I had questions. The workmanship is beautifully done… [The estimator] was very thorough and took her time so the crew would know what to expect.

Steven was very satisfied!

Excellent service, excellent access… answered all my questions and were available any time I had a question or was checking their progress. I will use Home Depot again for sure!!! Excellent job – well done!

Elizabeth was very satisfied!

We were VERY SATISFIED with the whole process and would highly recommend Home Depot for home improvement projects, especially with flooring.

Jean was very satisfied!

Rick and his crew went above and beyond our expectations! They were professional, efficient and incredible at their job. Would recommend with zero hesitation. 11 out of 10 stars

Jeff was very satisfied!

We had excellent results with Crew2. From their continual communications to the installation, we were very, very happy with the work they provided. The installer was efficient, friendly and did a great job.

Joanie was very satisfied!

The two workers were amazing. They worked extremely hard and got the whole project done in one day. They arrived on time and worked late. The floors are beautiful. Thanks!
 

Phillip was very satisfied!
EXAMPLES

OF OUR WORK
PRODUCT SELECTION
Visit your local Home Depot store to view carpet samples, meet with a project specialist and get your questions answered before moving on to the next step.
MEASURE
To begin the process, you'll work with a Home Depot Store Associate who will arrange an in-home measure consultation. The Home Depot's Measurement Service will…
Measure the entire area requiring new flooring
Evaluate the existing flooring for damage and levelness if able
Determine any special requirements or additional materials needed
If you haven't already, visit The Home Depot's website to schedule a measure.
PURCHASE
Based on the measurements taken during your measure consultation, an associate from The Home Depot will provide you with a price estimate and answer any questions you may have.
SCHEDULE
Once you've reviewed your order and payment has been processed with The Home Depot, a Crew2 Customer Service Representative will reach out via your preferred form of communication to review the work to be performed and schedule your installation.
Prior to your installation date you will also be provided with an arrival window for your appointment.
INSTALL
On the day of installation, you can expect your crew to arrive on-time with their Home Depot Service Provider badge clearly displayed. They will be respectful of your home and your time, and they will be prepared with the supplies and materials necessary to complete the job.
To ensure the best experience possible, make sure to look at this pre-installation checklist. While not every item may be applicable to your project, taking the steps you can before your installers arrive will ensure a smooth installation process.
Clear all surfaces and floor spaces
Remove hanging mirrors and artwork
Detach and store all wiring from TVs, computers and other electronics
Remove bedding, linens and disassemble beds
Clear and disassemble wall units, bookcases and entertainment centers so that they can be easily moved
Clear closet floors and remove low hanging clothes
Move any large, heavy or fragile items not included in the basic furniture moving service
Your flooring must acclimate inside your house for at least 72 hours prior to the installation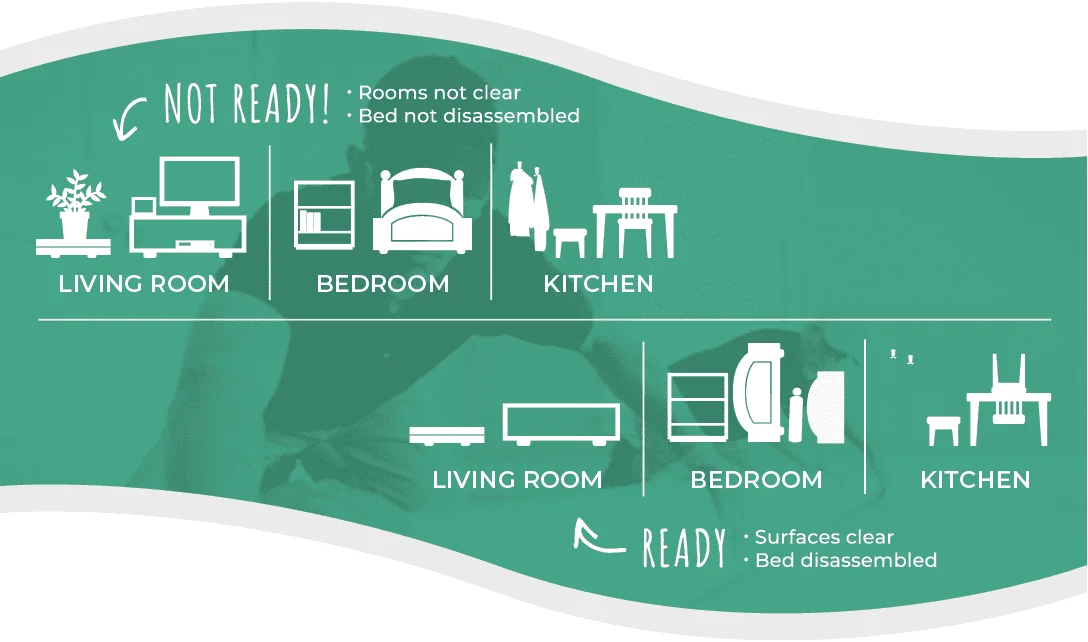 Please take note of the following:
Paint touch up may be required. Dings, dents, scratches, and scuffs are a normal part of the installation process. Any damage that could occur isn't expected to be excessive, but keep in mind that some paint touch ups may be required.
Your furniture move doesn't include extremely large, heavy, or fragile items. This includes pool tables, pianos, safes, aquariums, glass china cabinets and electric beds. Be sure these items are moved before your installation date. 
Non-standard items may incur additional charges. If you are unsure if an item is covered please ask us about it before your installation date.
FEEDBACK
After your installation has been completed you will receive a survey from The Home Depot. It's a great opportunity to rate your experience with us! Our goal is to leave you feeling Very Satisfied and we hope you will rate our installation team as such.
In the case where you have any questions or need any support, don't hesitate to reach out!
Contact us!